Food access in Elkhart County is a matter of both scarcity and abundance.  On one hand, we are still embedded in an agricultural landscape with access to farmers markets, roadside stands, bountiful markets, and backyard gardens.  Despite these resources, 15 percent of our population is classified as food insecure.  
Elkhart County stands out for a robust charitable food network with our own Food Bank and more than 40 food pantries across the county.  These networks are actively learning to balance the challenges of providing emergency food assistance with the need to address more chronic issues of poverty and malnutrition and with more convenient access to healthy produce.  The success of Church Community Services' Seed to Feed program highlights the potential where abundance and scarcity meet.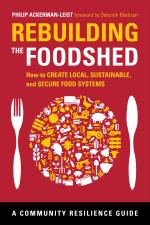 From "Rebuilding the Foodshed" by Philip Ackerman Leist (Chesea Green, 2012):
Although definitions vary somewhat, most organizations and governments define food access as having the resources and physical abiltiy to procure adequate and appropriate foods necessary for a nutritious diet.  
We Americans are still well versed in volunteerism, supporting nonprofits, and transforming religious ideals into action.  In sum, we do a pretty good job in responding to problems.  But we don't always seem to be so good at fixing problems-not even one as basic as ensuring that everyone has access to affordable, nutritious, culturally appropriate foods.  The first step in addressing a problem is defining it.  And the more complex the problem, the more challenging it can be to define it.  Such is certainly the case with hunger: can we define it as a physiological condition that has no direct link to economic security?  Malnutrition is equally complex and elusive.  Despite being on opposite ends of the physiological spectrum, both obesity and emaciation are now recognized as conditions related to malnutrition.  Why?  Because not all calories are equal.  As a result "food insecure" is, in some situations, a more apt term than "hunger" to describe the lack of access to foods of appropriate nutritional value.
Developing a common vocabulary is vital to advancing a community-based food system.  This vocabulary can help us define common ground and create community-based strategies that can complement, and sometimes even provide models for, state and federal food security programs.
Related Topics: food security; food justice; food desert; emergency food assistance
Food Security from lexicon of sustainability on Vimeo.
Examples in Action: Seed to Feed; City Fresh; Share the Bounty Week; Elkhart Local Food Alliance
References: A Place at the Table; Whole Measures for Community Food Systems; Food Banks as Regional Good Food Partners