Local procurement involves opening up new markets to enable increased transactions between local producers and local food services, manufacturers, and retailers.  A few strong options already exist for wholesale and retail purchases of locally produced food.  Area produce auctions are key assets for institutions and businesses looking to supplement their demands for fresh, seasonal produce while meeting their requirements for quantity, quality, and consistency.  Direct marketing relationships have also developed in situations where the demand can be met by a single producer.  Individual consumers seeking local produce have a variety of retail options as well as increasing opportunities to purchase directly from producers through farmers markets, roadside stands, and community supported agriculture projects. 
Local procurement through farm-to-institution relationships represent a particularly strategic leverage point: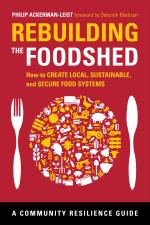 From "Rebuilding the Foodshed" by Philip Ackerman Leist (Chesea Green, 2012):
When it comes to increasing demand for local foods, institutions such as schools, hospitals, colleges and universities, and senior centers can make a huge difference.  An increase in supply generally follows an increase in demand, so involving local institutions in local food processing can ultimately enhance a community's long-term capacity to feed itself.  Remember, Americans are spending approximately half of their food dollars on "away-from-home" food, so farm-to-institution sales can have a big impact on a region's agricultural economy.  And community members often have more leverage than farmers in getting local food into institutions because many of these institutions are supported by public dollars and have service to the broader community in their mission.
Related Topics: distribution; economies of community; community supported agriculture
Examples in Action: Wakarusa Produce Auction; Local Food Guide; Local Growers Guild
References: Elkhart Region Local Farm and Food Economy; Esri Elkhart County Consumer Data; Food and Agricultural Innovation 21st Century Opportunities for Indiana