Windy City Harvest
provides instruction in urban agriculture best practices, develops collaborations that benefit communities, and produces high-value, nutritious produce that is sold at retail outlets and made available and affordable for local residents.
...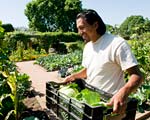 Participants acquire hands-on experience with sustainable vegetable production and learn essential business skills, including planning, pricing, sales, and marketing.
Students receive six months of hands-on instruction in greenhouse and outdoor growing practices, followed by a three-month paid internship. Up to five graduates will be hired by the Chicago Botanic Garden into five-month paid apprenticeships and will work toward an additional certificate in cool-weather growing techniques in hoophouses and greenhouses.