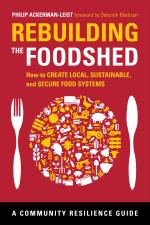 From the Growing Food and Justice for All Initiative, cited in "Rebuilding the Foodshed" by Philip Ackerman Leist (Chesea Green, 2012):
Food justice means providing access to good for all people, regardless of social or economic constraints. It means putting control of food production into the hands of the people who are eating it, thus creating local jobs and small businesses centered around food production and sale. It also means understanding the deeper systemic problems that cause the current food system to leave poor people underserved. Food justice reframes the lack of healthy food sources in poor communities as a human rights issue. Food justice is inspired by historical grassroots movements and organizing traditions such as those developed by the civil rights movement and the environmental justice movement. The food justice movement advances self-reliance and social justice by acknowledging that community leadership is the way to authentic solutions..  
---
From The Lexicon of Sustainability:
FOOD = CULTURE
The principles of Food Justice not only address the root causes of hunger and starvation, but also acknowledge that communities have the right to protect their land and water as precious resources, while its citizens have the rights to the healthy and clean food grown on these lands. By nurturing our local food systems, we provide our communities with security while safeguarding its most treasured cultural traditions. At GRuB (Garden-Raised Bounty) in Olympia, WA, students grow food for local food banks, farmers markets and their own families, while their "kitchen garden project" has built over 2000 kitchen gardens for local families.